COMPUSHIFT Sport TCM Most 4 Speeds
Regular price
$825.00 USD
Regular price
Sale price
$825.00 USD
Unit price
per
Sale
Sold out
Description
The COMPUSHIFT Sport is the next generation in technology from the industry leader in Automatic Transmission Controllers - HGM Electronics. 
The COMPUSHIFT Sport is the market leading transmission controller for 4 speed transmissions.  HGM provides the COMPUSHIFT Pro to manage transmissions with 4, 5, 6 or more gears.
Fully Customize Your Transmission -

 

Get full and precise control of the shifting strategy for your transmission.  COMPUSHIFT Sport is delivered with versatile factory-set programming for a wide variety of transmission and engine combinations.  However, you can completely customize settings to your exact specifications.


Smart Phone Integration - COMPUSHIFT Sport brings you the first ever smart phone integrated transmission controller. This makes programming dead easy – allowing programming via Android or iOS smart phones, tablets, PC's and Mac's.  

 

Connectivity includes both Bluetooth and dual independent CAN bus networks.  

 

All software is included.


All The Connectors

 

- The COMPUSHIFT Sport transmission controller looms come with a full set of Plug and Play OEM Connectors for all supported transmissions - making installation effortless.


We Have You Covered - HGM is the industry leader in transmission control.  We are with you all the way on your project. 
 
COMPUSHIFT SPORT
COMPUSHIFT PRO
Factory-set programming for a wide variety of transmission/engine combinations
Full transmission performance and drive experience customization
Full set of plug and play looms with OEM connectors for supported transmissions.
Programming software provided for Smart Phone (Android and iPhone), iPad and Windows/Mac computers.
BlueTooth Interface
Dual CAN bus Interface
Online Owners Manual
Online Quick Install Guide
Compatible 4 Speed Transmissions:


Ford AODE / 4R70W / 4R75W
Ford E40D / 4R100
General Motors 4L80E / 4L85E
General Motors 4L60E / 4L65E / 4L70E
General Motors 4L60E corvette transaxle 
General Motors 4T65E Front Wheel Drive
General Motors 4T80E Front Wheel Drive
Land Rover / BMW ZF 4HP-22 / 4HP-24
Nissan RE4R01A / RE4R03A
Nissan RE5R05A
Toyota A340 / A341 / A343
Toyota A442

Compatible 5 Speed Transmissions:

Chrylser NAG1
Mercedes WA580
Toyota A750
 
Compatible 6 Speed Transmissions:


Allison 1000 (coming soon)
Ford 6R80 (coming soon) 
General Motors 6L45 / 6L50 / 6L80 / 6L90 (coming soon) 
Toyota AB60

 
Compatible 8 Speed Transmissions:


Toyota / Lexus  AA80 / AA80 / AE80 / AB80 (coming soon)

 
This product may not be legal for use in California on pollution controlled vehicles.
Additional Info
SKU:34000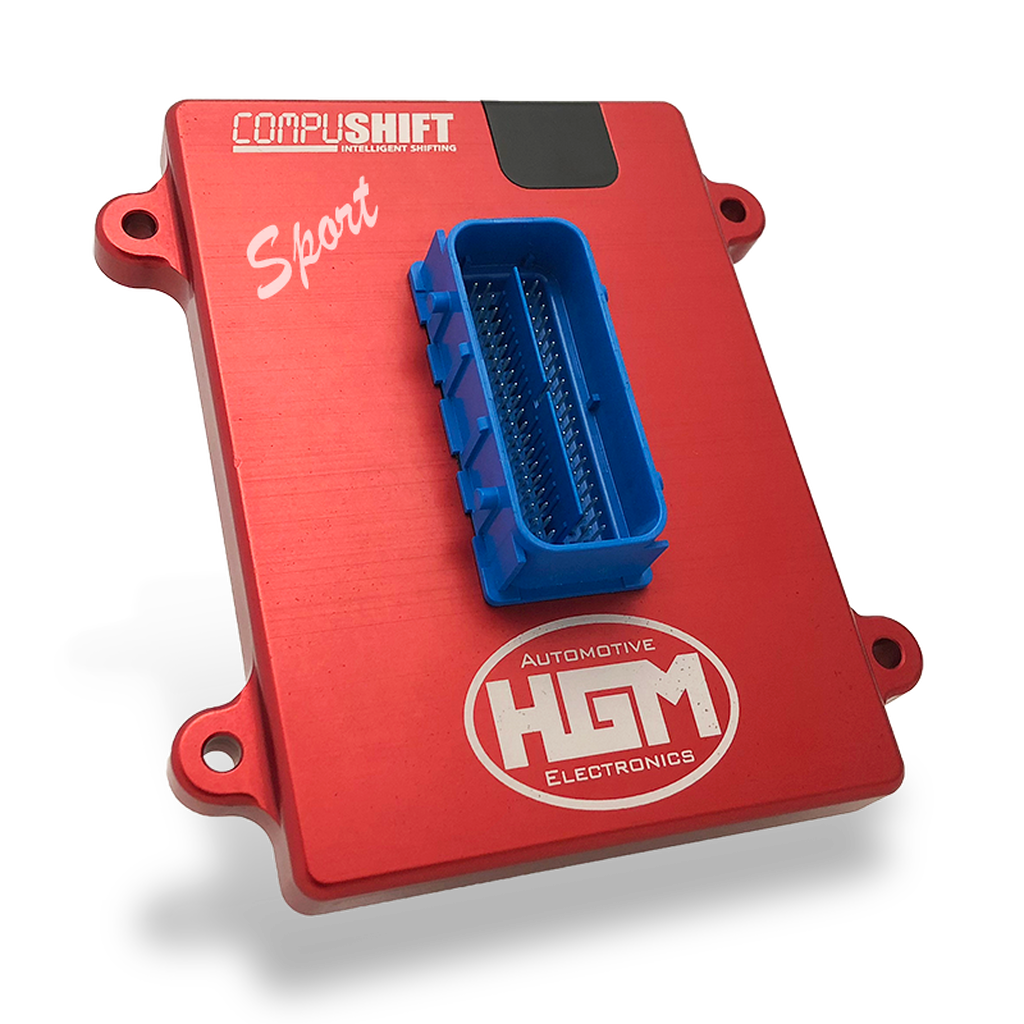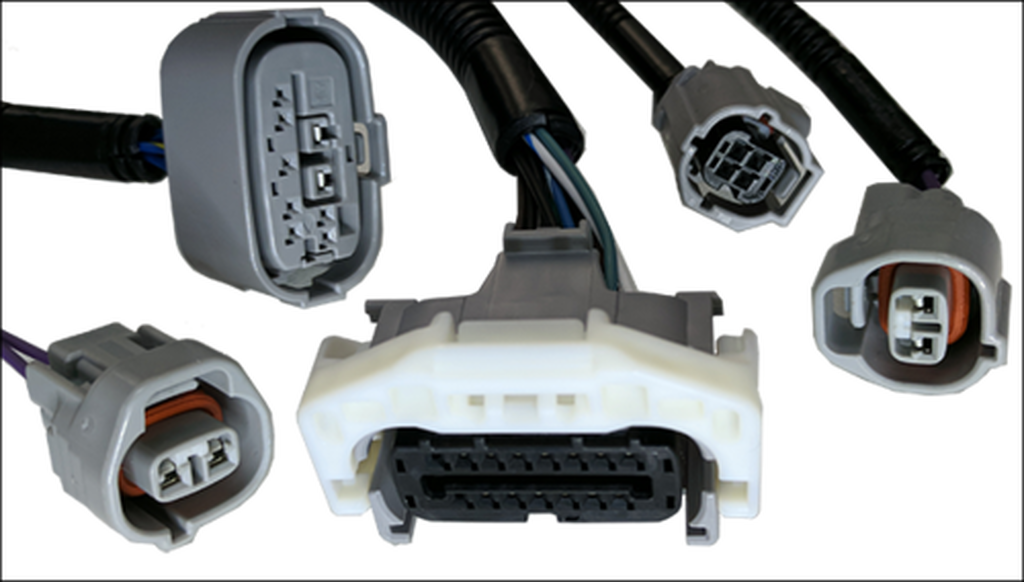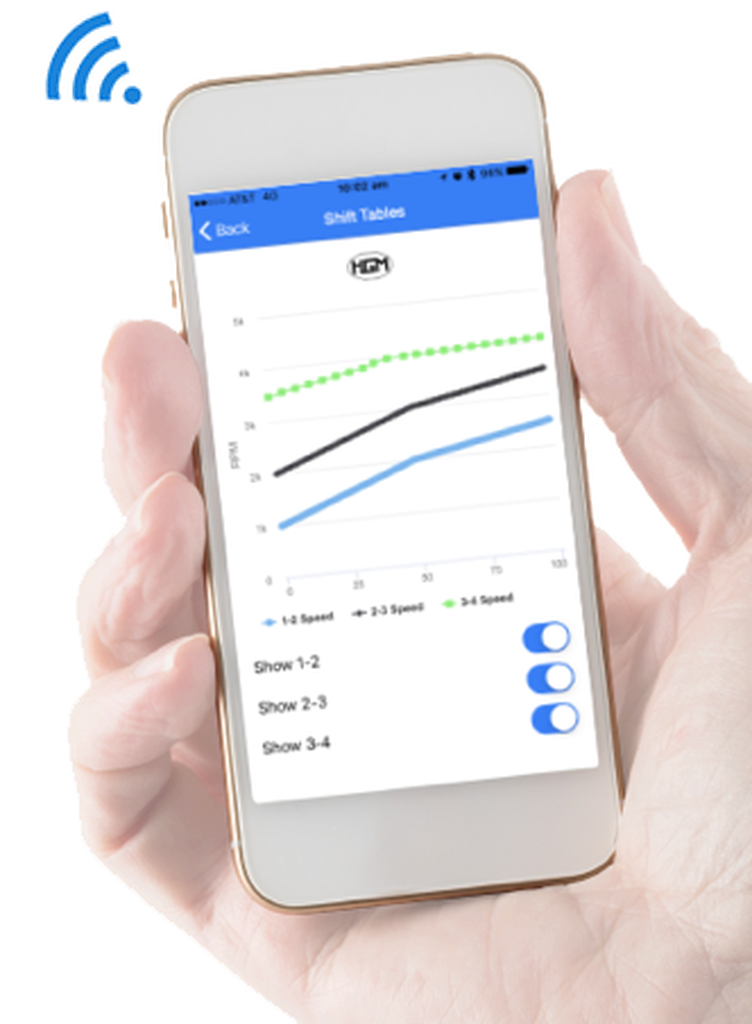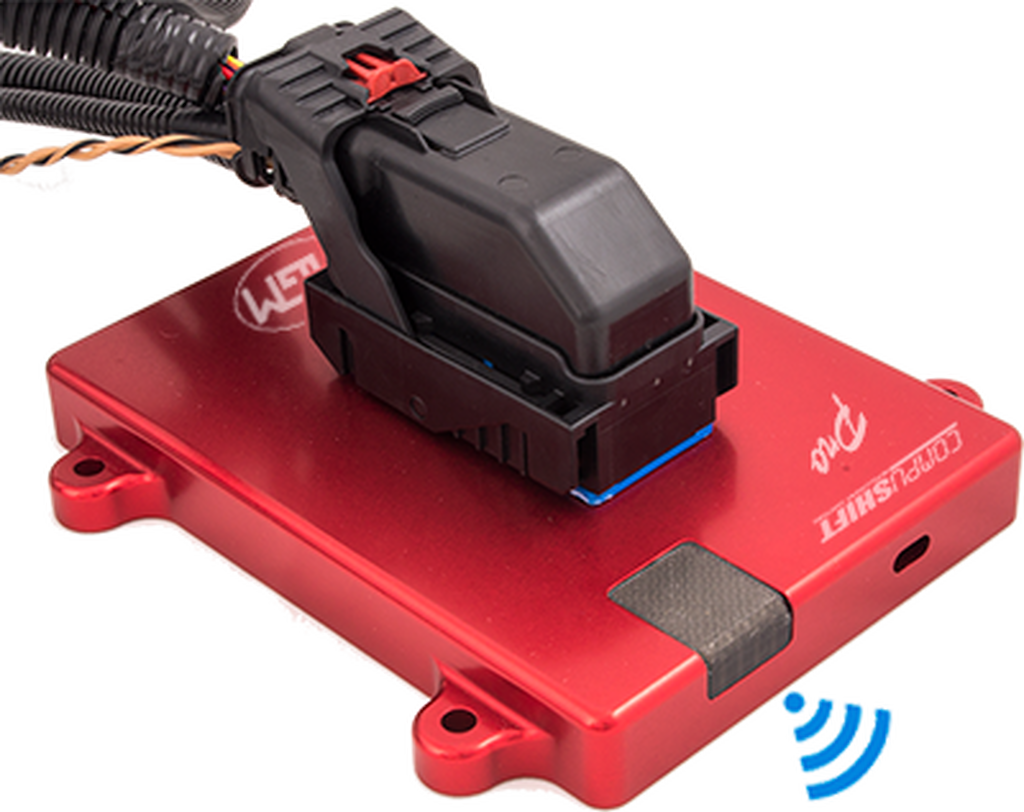 Great
Awesome product. Easy install. Working on fine tuning shifts. But, this is an amazing product
Thanks for the review. We are very proud of the COMPUSHIFT product and are glad that you are enjoying it.
Best Regards
The HGM Team
4L75e
Works as advertised, easy install and great customer service , I bought direct fro HGM. Highly recommend! Salty
It's great that you found the COMPUSHIFT easy to install and we hope you are enjoying the product!
Best Regards
The HGM Team
COMPUSHIFT Sport TCM Most 4 Speeds
Thanks for the 5 star review. We hope you are enjoying your COMPUSHIFT Sport.
Best Regards
The HGM Team
Absolutely worth every penny!!
I did plenty of research before settling on HGM to control my trans for my 94 S10 pickup V8 conversion, and there really isn't anything else that can do what the compushift sport can do for the money. I'm absolutely satisfied with the tuning and functionality of this, it's plug and play in the truest forum when paired with my edelbrock pro flo 4, literally hook up a switched power and a ground, and plug everything else in! The only trial and error thing was my factory electric speedo, and it only took a couple tries before i had it dialed in! Thank You HGM for making this easy!
Hi Andrew,
Thanks for the great feedback. Our #1 focus is producing well designed and top quality product.
Best Regards
The HGM Team!
Fast service
When I ordered the automatic transmission controller it was very thorough in the process of the order and the drop down menu was very accurate. I was expecting the order to take longer but I received the package in half the time that was stated. I have not had the controller installed but I can give feedback after it has done.
Hello,
Thanks for a great review. We put a lot of effort into our 'Configurator' questions that allow you to get exactly the products you need in your kit given your vehicle build plans.
Best Regards
The HGM Team.